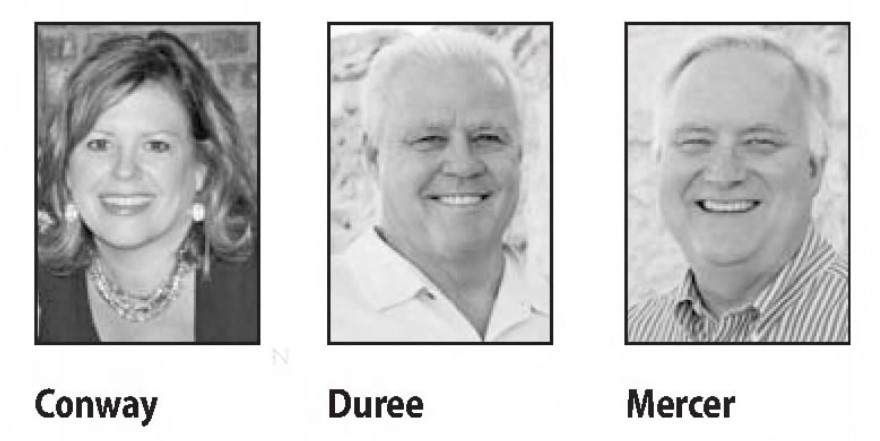 Cresson Mayor Teena Putteet Conway and two of her former school chums from Granbury High School are teaming up on Putteet Hill a development on her fam ranchland where some homes are expected to be live-in ready when the Cresson Relief Route is completed in 2022. Vistas on the 628 acre ranch provide views of Granbury and Comanche Peak and even the 4th of July Fireworks Spectacular, according to Morris Duree, who recently founded Granbury Realty with Tom Mercer. Conway, Duree and Mercer grad- uated from GHS together. Mercer was Mr. Granbury High School in 1977, and was the victor in a student council match up against Con- way (then Putteet).
The development will be 4-5 miles from H-E-B, Kroger, Acton Elementary School and Acton Middle School, Duree said. The Granbury Independent School District al ready provides bus service to the Cresson area. He stated that Putteet Hill will be 17 miles from Interstate 20, will make it a very short, easy commute for Mercer, a real estate broker, has been in the business for 35 years. He said that he has sold more than $2 billion in real estate in three counties and a dozen states. Mercer said that the Putteet Hill project is what brought him back to Granbury after a 40 year absence.
He still has a home in Austin but now has an apartment here. and I and Tom have all been really close friends since high said Duree, who went into real estate after spending 20 years with Lamar Advertising, a billboard company. She approached me with thoughts about doing something with their family ranch. One thing led to another. The development is very much in the preliminary planning stages. Duree said, but developers and individuals are already reserving lots. "All we're doing right now is taking lot he said". Actual closing take place until October – November. Conway said that the entire project will likely take between 5 and 10 years, showing lots to builders, and builders are buying them. The mayor stated that she has not participated in any City Council votes involving development of the ranch land that has been in her family for many years. The land is located near what is known as Rock Crusher Hill, a former rock quarry. Duree said that the property is to the left of the bury: Where Texas History sign as motorists are driving toward Granbury on Hwy. 377. The first phase will involve about 100 homes with water wells and septic systems that will be built on 2-acre lots.
Phases 2 and 3 will involve another 100-150 homes on smaller lots, and there may be type of water to serve those homes, Duree said. A few lots at the back of the property may be between 5-15 acres, but no animals such as cows or horses will be allowed, Duree stated. Planning for Phases 2 and 3 will probably begin within the next couple of months, he said. Duree said that Putteet Hill will be comparable to Bella Ranch in Benbrook. Mercer said that the first home slated for Putteet Hill is a three car-garage dwelling to be built by Audience Homes.
Mercer and Duree said that the development will have a positive effect on Hood economy since families will undoubtedly shop and dine in the lake community a few miles south. It´ll be a significant Mercer said. A plus for Putteet Hill homeowners is that Cresson does not levy a property tax. Those wanting information about lots in the planned new development can inquire online at putteethill.com.